Leaving Cert Applied
The Leaving Certificate Applied is an alternative pathway to a senior cycle certification.
Coláiste Iascaigh offers this successful and well-established programme to students who wish to follow a practical or vocationally orientated programme. This programme offers students a unique opportunity to develop their self-esteem and fulfil their potential.
Under the direction of the programme coordinator Ms. Sandra Carey, our LCA students have consistently achieved outstanding results in State Examinations.
What is LCA
The Leaving Certificate Applied is a distinct, self-contained two-year Leaving Certificate programme aimed at preparing students for adult and working life. The programme is pre-vocational by nature and is designed for those students who do not wish to proceed directly to higher education or for those whose needs, aptitudes and learning styles are not fully catered for by the traditional Leaving Certificate programme.
Participants in the Leaving Certificate Applied are mainly engaged in work and study of an active, practical and student-centred nature.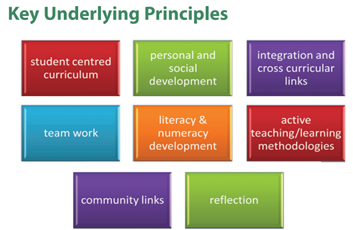 Benefits of LCA
Prepares learners for the demanding transition to adult and working life.
Recognises talents of all learners
The pace of the programme responds to the aptitudes, abilities, needs and interests of the learners.
Provides opportunities for the learner to develop in terms of responsibility, self-esteem and self-knowledge.
Develops communication and decision making skills.
Helps learners achieve a more independent and enterprising approach to learning and to life.
Structure of LCA Programme
The two-year programme consists of four half-year blocks called sessions.
Year One
Year Two
Session 1
Session 2
Session 3
Session 4
Sept – Jan
Feb – June
Sept – Jan
Feb – June
Coláiste Iascaigh review and adapt the programme to accommodate the skills and interests of the students entering the LCA programme.
The subjects currently available to students are:
Assessment and Examination
Assessment is continuous throughout the course, they take place on completion of each module. There is also a final examination.
The final examination must be taken in the following areas:
English and Communication
Two vocational specialisms
Mathematical Applications
Language
Social Education
There are written and oral examinations in all languages. There are practical examinations in the vocational specialisms. The written examinations take place in June, at the same time as the examinations for the established Leaving Certificate.
Students who successfully complete the programme are awarded a Leaving Certificate from the Department of Education.
The certificate is awarded at three levels:
| Level | Marks and Credits Required |
| --- | --- |
| Pass | 60-69% (120-139 credits) |
| Merit | 70-84% (140-169 credits) |
| Distinction | 85-100% (170-200 credits) |
As part of the LCA programme students have to participate in work experience. This work experience consists of one day a week (Wednesday).
The idea of the programme is that students gain valuable skills and experience of work-life, learning how to work with others, be punctual, respectful and hard working.
This successful placement of our LCA students is mainly due to the local businesses and industries that offer our students work experience placements. We are very grateful to all those who offer this opportunity to our students and we hope you will continue in assisting our young people in the world of work.
Students are covered by the school's own insurance policy.
LCA students are required to keep work experience reports for their Vocation Preparation credits.