| Role | Name |
| --- | --- |
| Chairperson | Anna Marie Rodgers |
| Secretary | Debbie Ormiston |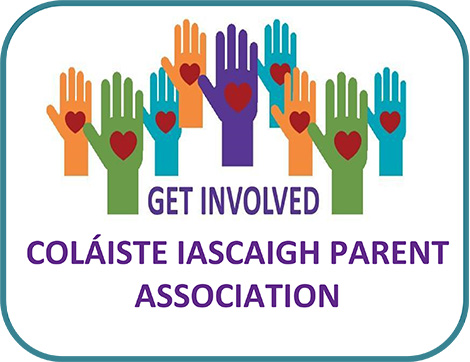 Notification of when our next parent association meeting will be text to each family. It is current practice to have one meeting/term.
A Parents' Association is defined as a group of parents working in partnership with all stakeholders to enhance the educational development and educational opportunities of their children. Parents' Associations/Councils deal with issues in a structured way.
A Parents' Council is a resource at the disposal of the school community.
A Parents' Council is a resource at the disposal of the individual parent.
A Parents' Council represents the views of parents, e.g. by having an input into school policies.
All parents and guardians of children attending your school are members of the Parent Association.
To act as a conduit between the parents and the school.
To inform parents of their role (rights and responsibilities) with regard to the school.
To inform parents about their school: policies, curriculum, system of governance (Board of Management, etc.).
To encourage dialogue with the Board of Management and other partners relating to parents' expectations for their students.
To ensure that parents are represented at all levels in the consultative process of school development planning and decision-making.
To help parents acquire the necessary skills which their role demands.
Parents need help, support and information. This is one of the areas where Parents' Associations can help.
It is important in setting up a Parents' Association that the partnership is seen as mutually beneficial to parents, teachers, school and pupils.
Parents' Associations have to be professional if they want to be taken seriously within the school community.
If there is trust and integrity between parents, teachers and school, all parties benefit.
Parents' Associations must be able to raise points of disagreement with the school in an organised manner or the partnership ceases to be effective.
It is important to remember that the educational, technical and professional aspects of education belong to the teachers and the school, not to the parents/ guardians.
Meeting with other groups working in the school.
Principal, Teachers and Students.
Find practical ways to co-operate and support the work done by the teachers
Be a core part of the literacy and numeracy plans of your school.
Assist with transition year.
Introduce/support homework clubs.Introduce/support book rental scheme.
Concerts, drama nights, exhibitions.
Sporting events.
Career nights.
Open days/nights.
Transition year information evening.
Alcohol and drug abuse.
Study.
Sex education programmes.
Bullying – school policy and procedures.
Positive parenting.
Solely a fundraising organisation.
A complaints' forum for gripes against teaching staff.
A tea and biscuit making committee.
A chat forum for the disgruntled.
An exercise to do the bidding of the principal.
More information can be found at: